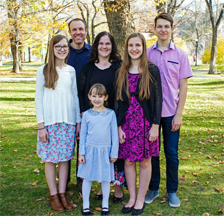 In the summer of 2021, the Tilson family moved to Nevada to help plant a church. James and Amy have four children; Matthias, Aubrey, Karissa, and Caroline. Besides home schooling, Amy is also teaching some online math courses and James teaches zoom Bible classes for International Baptist College and Seminary in Chandler, AZ. With military/chaplain training now complete, James has been working a few days a month at the Nevada Air National Guard Base; this regularity has stabilized a portion of their income.
Their first service for the new church plant, Living Hope Church, was held October 24, 2021 with an attendance of over 100! Please pray with them as they start small groups, continue with counseling church attenders, and participate in community activities with the goal to share the Gospel.
WBC has been supporting them since 2021.